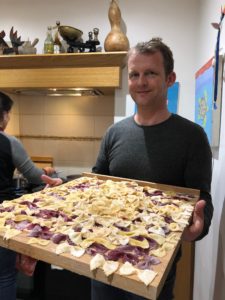 Private dinner parties with a twist! Fancy having friends around but haven't got time or ran out of ideas of what to cook?
I offer private dinner parties for 2 people or more.
In the 2,5 hour pasta private workshop, you will learn how to make fresh colourful pasta which you can eat at the end of the night.
You will be making two batches of dough, one to eat with your guests and another to have later.
If you need some snacks too, I can make fresh bread, sourdough, fresh humous of your choice with veggie sticks. I am also happy to accommodate special requests, e.g. making a dessert.
Vegan option is also available.
Mileage included within 3 miles of S17.