You can find some of my favourite recipes under Twiddle Tuesday on my social media accounts.  Here are the most popular ones.
H U N G A R I A N  L I N Z E R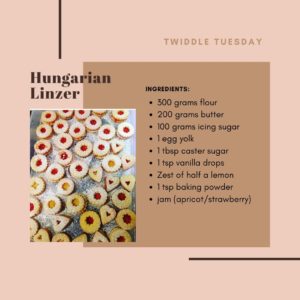 1. Mix the dry ingredients: flour, baking powder, icing sugar, caster sugar. (If you can get your hands on vanilla sugar, use a sachet instead of vanilla drops and caster sugar.)
2. Add the egg yolk and vanilla drops if using
3. Add the butter which can either be melted quickly or at room temperature at least
4. Heat the oven for 180 Celsius and prepare a couple of baking trays (use baking sheets or a bit of butter to stop the dough from sticking)
5. Roll the dough to approx. 1 cm thickness. If the dough is too soft, pop in the fridge for 10-15 minutes. If too soft the dough will be hard to cut and will loose its shape while baking. Remember to cut a hole in half of the dough if you want to make the same as on the photo
6. Bake for 9-10 minutes maximum – the cookies will seem underdone a little but will firm up once cooled down
7. Use your favourite jam to stick two cookies together once the cookies cooled
8. Sieve icing sugar on top.
---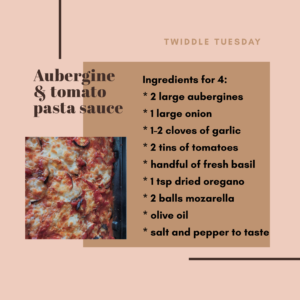 A U B E R G I N E  &  T O M A T O   P A S T A  S A U C E
You need to chop the aubergines to cubes or slices (whichever you prefer), place on a tray and sprinkle sea salt on it. Leave to stand for half an hour until it "sweats". Wash off the salt in cold water then put on an oven tray, add generous amount of olive oil and bake on 180 Celsius for about half an hour or until it is soft and cooked. You could shallow fry the aubergines too but it is not as healthy and takes a lot longer.
While the aubergines cooking you can make your sauce by chopping the onion and garlic, frying on a tablespoon of olive oil for a couple of minutes. Add the chopped toms and herbs and let it simmer until the aubergines are ready. You can then add the tomato sauce to your aubergines, sprinkle with grated mozzarella or add slices of fresh mozzarella and bake for another half an hour until the cheese is nice and crispy on top. Serve with pasta or as a starter on a nice slice of fresh bread or toast! Enjoy!
---
A R R A B B I A T A  P A S T A  S A U C E
Heat the butter/olive oil (or a mix of both), fry the dried chillis on it first. Then add the onion with the garlic while turning the heat down so it doesn't burn. Add the chopped and fresh tomatoes and heat the sauce back up until it reaches the boiling point. Stir and simmer on low heat for an hour or so – longer the better, but keep remembering to stir it. Just before you are ready to serve, add the chopped basil leaves, the salt and pepper. Best served with Parmesan cheese and a bit of fresh spinach.